Songwriting Instructors
Robin Jumper
Vocals, Piano, Theory, improvisation, and Song Writing
Robin was raised in the Glasgow, Missouri area where her family has a farm. She is from a musical family and started piano lessons at 5 years old along with her two older sisters.
She went on to pursue and attain a Bachelor of Science Degree in Music Education from BJU in Greenville, SC. and a Masters of Music in Vocal Performance at UNO in New Orleans, LA.
Robin has two children, Emily who is 25 and lives in New Orleans, and Timmy who is 15 and has Downs Syndrome. They both mean the world to her and are such blessings.
She has taught private voice and piano lessons for 25 years, has helped write a preschool music curriculum, and has taught a music class in the O'Fallon, Missouri area for over 10 years. She especially enjoys recital time when performance is the key to the musical experience.
Chelsea Bunetic
Guitar, Violin, Mandolin, Ukulele, Improvisation, Music Theory, and Song Writing
Chelsea has been playing violin since she was 3 years old and was trained in Suzuki violin and Missouri fiddling throughout childhood. She travelled and performed with a bluegrass band where she learned to play mandolin, guitar, and ukulele.
Chelsea has been teaching private music lessons to all ages since 2008. She has also volunteered as a band mentor and guitar instructor for COMO girl's rock as well as contest judge for local fiddle contests.
Her focus styles include Missouri style fiddling, bluegrass, Christian worship, classical, singer/songwriter, folk, and country. Outside of lessons she enjoys playing ukulele with her 7 year old son and slinging espresso at Fretboard coffee.
Ashley Ourada
Piano, Vocals, Organ, Theory, improvisation, and Song Writing
Ashley grew up on a cattle farm in a small town called Lucan found in the southwest corner of Minnesota.
Ashley loves music, she has been taking piano and organ lessons since she was 7 years old and continued taking lessons until her sophomore year in college at South Dakota State University in Brookings, SD. During this time of lessons, she participated in solo performances, studio forums, and dozens of piano and organ competitions where she usually ended with a perfect or near-perfect score!
Ashley's main focus at college was to finish her Bachelor's Degree in Animal Science. But she also pursued minors in Animal Health, Biology, Chemistry, and Music. In addition to taking piano lessons at college, Ashley was also involved in the Women's Chorus for three of the four years at SDSU.
Ashley graduated from SDSU May, 2017. And she recently moved to Columbia to attend the University of Missouri College of Veterinary Medicine to pursue her Doctor of Veterinary Medicine Degree. Music will always be an important part in her life. Even while in college she has done everything from accompanying soloists (vocal and instrumental) and choirs, to playing piano/organ at various churches, to playing piano/organ in weddings!
Ashley is excited to teach students through A Major Music. Music seems to be a dying art, and she wants to keep the love music alive. She cannot wait to share her talents with the students and help them develop their own talent and passion for music.
Phiya Kushi
Piano, Guitar, ear training, music theory, arranging and improvisation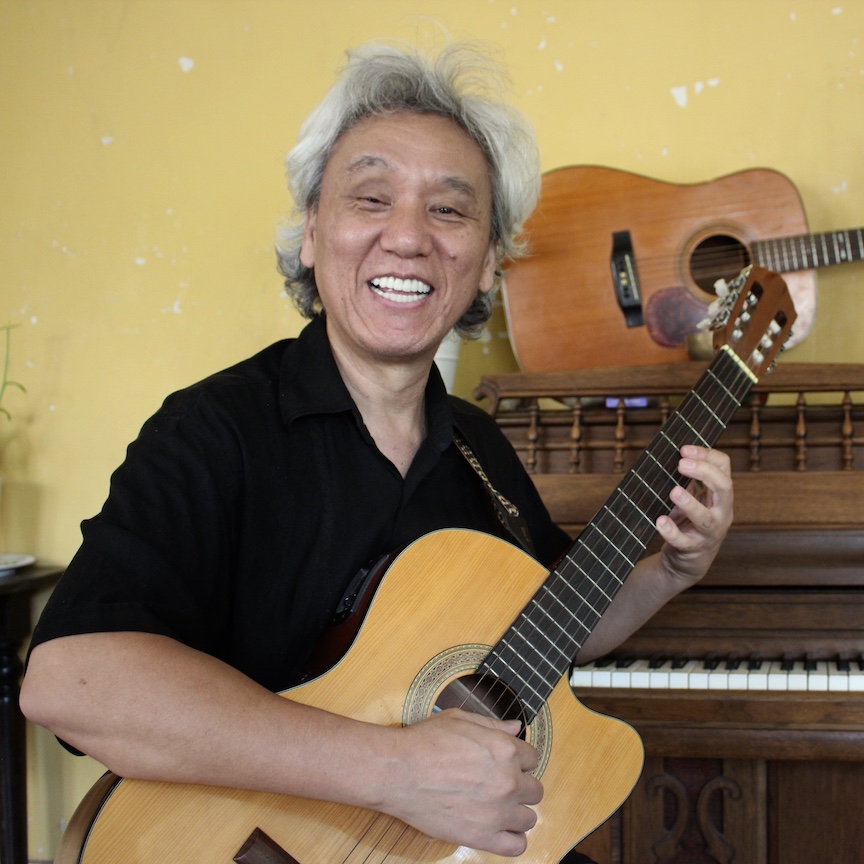 At an early age his older musical sister taught him to read music and he was immediately hooked. By age 11 he spent hours on the piano learning every song and style he heard and loved. In his teens, he was gifted a classical guitar and quickly developed the ability to learn songs and complex chord arrangements by ear on the guitar. Although he loves playing and teaching all different genres, his forte is classical and finger styles.
Professionally, Phiya is a macrobiotic educator and has worked in the natural and organic foods industry his entire life. Through the years, in his spare time and as a hobby, he strove to advance his musical skills whenever he could, focusing more recently on jazz piano improvisation and expanding his Brazilian, Spanish and classical guitar. Through the years he has met and been inspired by many musicians who sees music as the universal language that brings people together.
Phiya loves teaching music at A Major which combines his background in education and his passion for music. He looks forward to meeting and joining others on this amazing journey of discovery and exploration known as music.
Rachel Middendorf
Piano, theory, improv and song writing.
Rachel Middendorf started taking piano lessons when she was 5 years old. She comes from a very large and musical family who encouraged the importance of knowing an instrument and participating in public performances. She participated in many musical competitions as a child and teenager. Later she Graduated from College of the Ozarks where she studied Agriculture, Social work, and Music. Music remained a steady, beloved, constant throughout her life and studies.
Now, Rachel is a full-time mother to 3 children. She plays music very loudly throughout the house for her and the family. She has IPOD fights with her sons. They always default to Garth Brooks and Johnny Cash and she nearly always chooses worship, classical or jazz. She throws dance parties in the living room where her all-frills daughter happily participates. Her familys favorite time of day is when Mom plays piano for the kids to fall asleep.
Rachel sees teaching music as an honor. It is a way to gift someone with the ability to express themselves and share their gift with a world that needs so much. It is a way to literally develop their mind and offer up a challenge that is so worth all the effort.
Her life motto that applies to everything but especially music is this: One small step every single day.
Jamaica Scott
Piano, Improvisation, and Song Writing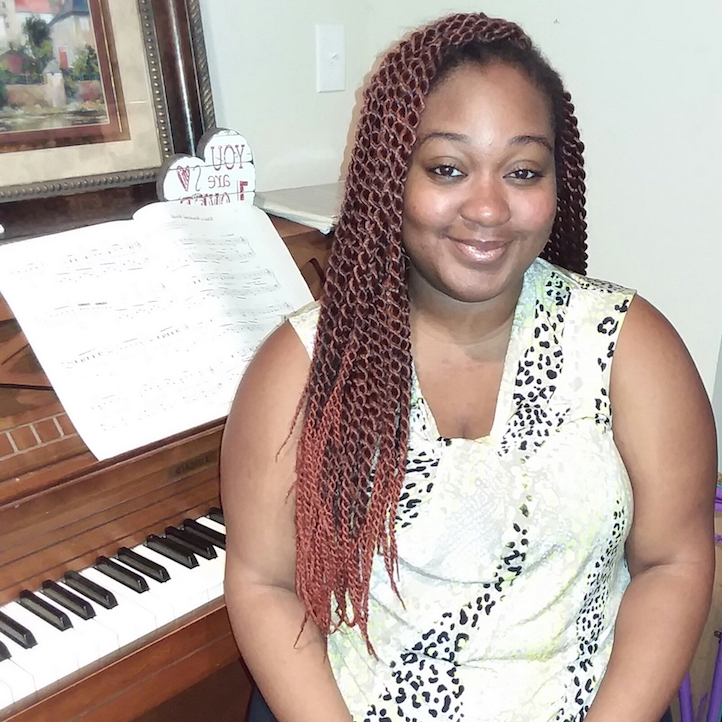 Jamaica is from Saint Louis, Mo. She began taking piano lessons at the age of 9. She has a love for education and has held a love for music her entire life. Classical music is her favorite, but she also enjoys jazz and ragtime. Jamaica has attended Saint Louis University, the University of Missouri-St. Louis, and is finishing up her Psychology degree and Elementary Education certification at Columbia College.
Jamaica has played at churches, weddings, recitals, competitions, and talent shows. One of her relishes is to be able to share the gift of music with the world and ignite the talent in those around her. Jamaica has one daughter, 7, and is a full-time homeschooling parent. She and her daughter enjoy reading, watching 'Turtle Tales' and listening to Michael Jackson in their spare time.
Jamaica has previously been employed with Columbia Public Schools for several years where she worked with special needs children. Jamaica believes that all the world needs is a little more love, holistic health, and strives to be the change she wishes to see within the world. She has been vegetarian for the last couple of months and plans on going vegan in the near future. Her favorite song to play on the piano right now is "What A Wonderful World!!!"
Amanda Furtick
Piano, Vocals, Improvisation, and Song Writing
Amanda has been playing piano and taking private lessons since age 5. She studied music theory throughout high school and college and has played many genres such as musical theatre, classical, baroque, and contemporary. She began taking vocal lessons in early high school and participated in musical theatre for 6 years.
She has continued playing and singing all throughout her college career as an accompanist for the MU Women's Chorale and for individual vocalists, a Soprano in MU University Singers and Concert Chorale, as well as other singing opportunities, such as the Odyssey Series Bach choir and community ensembles.
She began teaching private piano lessons in 2011. She taught students in the community, as well as worked through the Judson Community Music School outside of Chicago, IL for 2 years. She began her degree in 2013 in Music Education & Entrepreneurship at Judson University in Elgin, Illinois. She transferred and is now finishing her degree at Mizzou in Vocal Music Education with a concentration in piano and has plans to student teach in January of 2019.
Evan Little
Drums, Guitar, Bass, Improvisation, and Song Writing
Evan has been playing guitar and drums for over 10 years. He started out playing in the youth group at church, and now plays in several rock bands.
Evan started drumming at the age of 8, and started guitar lessons around 6th grade. He's in a couple of bands currently and he plays bass in his most active band at the moment.
From songwriting and chord structure to touring in punk rock acts, Evan is sure to use his experiences to help his students develop their own artistic expression.
In his spare time, Evan likes listening to records and hanging out with his cat, Callie. He also enjoys going to all types of concerts and supporting the local music scene.
Evan is accepting new students and is excited to teach the fundamentals of music and to learn the songs you request and enjoy!
Zack Hoff
Guitar, Saxophone, Banjo, Theory, improvisation, and Song Writing
Zack is a guitarist, saxophonist, and songwriter from De Soto, Missouri.  He started playing guitar at nine years old and sax when he was twelve.  He has performed with multiple music groups since his early teens, including jazz combos and rock/metal bands.
His favorite thing to do in his spare time is improvising guitar solos to popular songs.
In high school, Zack was the lead guitarist for his jazz ensemble, played the baritone sax for two years in concert and marching band, and also sang for three years in concert choir.
He is attending the University of Missouri for a degree in astrophysics and mathematics, but one of his greatest passions is teaching and playing music.
Stephen Lavely
Guitar, Piano, Bass, Theory, improvisation, and Song Writing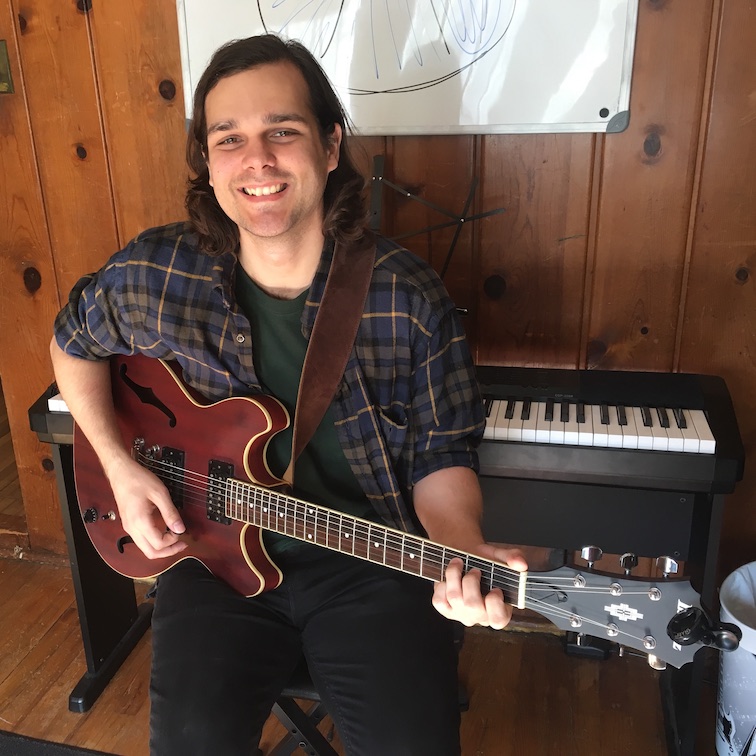 Stephen is a guitarist and pianist from O Fallon, Missouri. He has been playing music every day for hours a day for over ten years. He studied music in college and is currently a senior at MU getting his bachelors degree.
He has played with choirs, jazz bands, rock bands, and many other types of bands. He has studied Jazz, classical, rock, country, folk, bluegrass, funk, experimental, and many other types of musical genres in the world.
He loves to jam with friends, improvise along with whatever comes on the radio, performing, and figuring out how to learn songs by ear. In his spare time, he reads all kinds of books including science fiction and history, and hangs out with his cat Jaspurr.
Jashawn Linwood
Guitar, Bass, Violin, Drums, Ukulele, Mandolin, Theory, improvisation, and Song Writing
Jashawn has been playing music since he was 11 years old. He started taking violin in middle school and went on to play in his high school symphony in Indianapolis. In addition to violin, he expanded his musical horizons to guitar and bass guitar from a young age.
Jashawn has played music in a lot of different bands of varying genres of music and instrumentations. He has experience in Jazz, blues, alternative, reggae, funk, hip hop, and more.
In his free time, he likes to dabble in creative writing, he loves learning new instruments, and learning about new cultures. He is very easy going and does an amazing job keeping his students interested and progressing at their instrument. He is excited to help people start or continue their musical journeys!
Linnea Nixon
Piano, Improvisation, and Song Writing
Linnea was born and raised in Washington State. She took private piano lessons for 9 years, while also participating in her school's symphonic, marching, and jazz bands. She played the bass clarinet and snare drum, however the piano remained her favorite.
After graduating high school, she attended Washington State University to obtain a Bachelor of Science in Zoology. She loved playing piano and enjoying music as a stress reliever from school.
Linnea recently moved to Columbia, Missouri, to attend the University of Missouri's College of Veterinary Medicine. When not playing music, Linnea can be found studying or reading a large novel with her cat, Scout.
Brandon Tobin
Piano, Drums, Improvisation, Theory, and Song Writing
Brandon was born and raised in Columbia Missouri. His dad started teaching him the drums when he was around 8, and he started piano lessons when he was 12. He loved growing up playing music with his sister and dad.
He plays anything he can get his hands on, but his favorite genres are classical, jazz, rock, punk, funk and everything in between.
He has always wanted to teach and is excited to be able to help teach music to anyone who is willing to learn! Giving the gift of music is the best thing you can give someone.
Tyler Kemp
Guitar, Bass, Vocals, Improvisation and Music Theory
Tyler is a trained and professional guitarist who entered his six-stringed journey after a live album blew his mind. He has a specific taste for an overdriven blues tone, but loves all genres of music from acoustic fingerpicking to progressive rock. Years of vocal experience help give Tyler an ear for notes, and leads to some great jam sessions.
Born and raised in central Missouri, Tyler is a 2014 Mizzou Alum who has not missed many home football games since 1991. With a wide variety of hobbies and skills from working on cars to videography, Tyler is easy to get along with and a patient teacher you are sure to have a fun time learning from.
Owning a small business gives Tyler a fair amount of scheduling flexibility, you can schedule appointments with him during weekday afternoons and evenings. Fill out a contact form to get in touch!
Greg Allers
Owner of A Major Music
Greg Allers is an experienced instructor and founder of A Major Music Lessons and teaches Guitar, Bass, Drums, Vocals, Theory, Improvisation and Song Writing.
Greg has been playing guitar since he was 12 years old, comes from a musical family, has played in multiple bands during this time, and has a degree in music theory.
Greg has been teaching music professionally since 2008 and over the years he developed teaching strategies and values. Values as simple as always being friendly, caring about your students, teaching them what they want, being consistent, on time, and flexible!
Greg had to stop accepting new private lesson students since he graduated from MU with a mechanical and aerospace engineering degree in 2014, but he loves teaching and spreading the joy of music so he continues to do so by running A Major Music. He helps other teachers that he believes in by training them on his knowledge of music and tactics for teaching that he developed over the years. He holds those teachers to his standard of quality and helps them have the music career he feels so fortunate to have had.